The company is a leading Colombian Hospitality Linen Rental Company. They have a rental inventory of over 40,000 linens of various types that they lend to hotels, restaurants and healthcare institutes. Due to their nature of business, they frequently move linens from various client locations for laundry and care. Their manual process was time consuming and prone to human error, stock misplacement issues and more. They used RFID solution for Linen asset inventory management of DreamzCMMS and saved effort, time and cost to a great extent
Challenges
The company was manually tracking its inventory which was a tough job due to the nature of inventory items, as they look similar and it's a challenge to identify them distinctly. They wanted to manage thousands of inventory items moving in and out for daily cleaning and replacements.
Being a fast-moving item that requires cleaning and washing services after each use, the process requires detailed tracking of every item. Post Covid-19 pandemic, improving quality services in terms of hygiene and cleanliness has become important. Altogether it posed a huge challenge for the company to sustain growth and improve the quality of service.
Solution
The customer was looking for an RFID Solution for Inventory Tracking and regulating their maintenance operations. They selected DreamzCMMS after a successful demonstration and its easy-to-use RFID capabilities.
Quick and Easy onboarding
The platform was easy to understand and use. Our team quickly grasped it after a couple of remote training sessions. Said the client manager. DreamzCMMS team offers remote training sessions to facilitate the understanding and onboard process for the client team.
After sessions, the client downloaded the readily available templates to prepare for importing existing inventory into the system. Using the CSV import, they added over 40,000 inventory items in the application within a few minutes.

RFID Tagging and Serialization
After importing the items, whenever they had to send linens to their customers, they uniquely serialized using the RFID scanner and labeled with an RFID inventory tracking tags. Using the RFID handheld scanners and fixed line scanners they are now able to track their inventory movement, dispatch, items in transit and receive; all using the RFID app.
Easily Perform Inventory Activities
Using RFID App, the client can now manage inventory efficiently. Previously performing inventory activities like stock taking, inventory counting, issuing rental stocks, receiving stocks etc. used to take lots of effort and remained prone to human error. RFID inventory control solutions provided them with an easy way with less effort and reduced human error.
The client can now perform a bulk scan to count available items, easily identify misplaced items, reconciliations and more. Client can also make enquiry for items rightly available, should have been available but not found and additional items found with clear demarcations.
Efficient Inventory Movement Tracking
Client now performs easy renting out and taking back linens with quick scans. Using the Dispatch feature, the user creates a list of linens ready for rent. When dispatched, items are available for tracking in transit. They can track the in-transit dispatches throughout the delivery process. At the destination, linens are scanned again to validate and accept.
Throughout the journey wherever there are transfers, scanning happens using RFID scanners. Scanned data is captured and produced for complete tracking and tracing.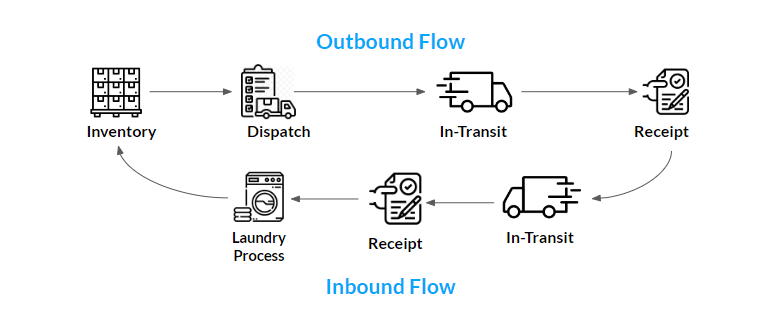 Tracking Wash Cycle And Maintenance
For providing quality linens, the tracking wash cycle is important especially when rental linens have a limited number of washes. Every wash is counted and informed.
Using the maintenance checklist feature, the client created wash and care procedures and attached them to work orders. Also, they use DreamzCMMS for maintenance management of their laundry equipment such as Tunnel washers, Batch Dryers, Hydraulic presses, and Shuttle Conveyors.
Readily Available Tracking Reports
DreamzCMMS provides over 120 readily available reports and 10 different dashboards. With these reports and available dashboards, the client can view details of every aspect of their asset and inventory management. Reports like Asset Movement Summary and Asset Transaction Log provide complete traceability of the asset journey through its lifecycle.
Benefits Reported